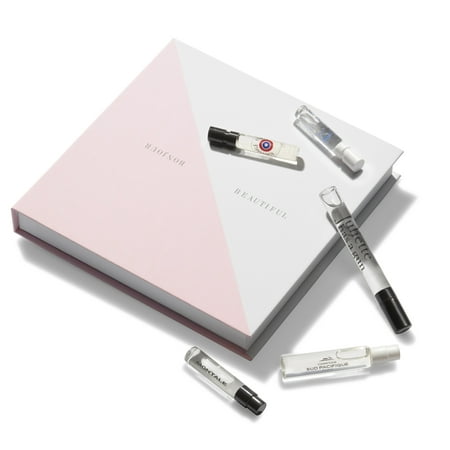 You've got great taste, and Ellen thinks so too. This Exclusive Perfume Set appears on the February Ellen's List! [Exclusive] Bonjour Beautiful Perfume Set for Women (Value of $75) Experience Paris without ever stepping foot on a plane with our new fragrance discovery kit, Bonjour Beautiful. Showcasing luxury fragrances from five niche French brands, this kit is an easy and exciting way to find your new favorite scent. Whether you're looking to treat yourself or spoil the beauty lover on your list, at a $75 value this kit makes for the perfect gift.
Vanille Blackberry by Comptoir Sud Pacifique
Intense Cafe by Montale
Not a Blue Bottle 1.2 by Histoires de Parfums
Remarkable People by Etat Libre d'Orange
Discover the scents:Not a Perfume by Juliette Has A Gun: A fragrance made out of a single element called Cetalox. Usually used in perfumery as a base note, it plays here the lead role...and smells different on each individual. Another advantage of this particular composition, is that it is entirely allergen free. The result is minimalist, elegant, pur.Vanille Blackberry by Comptoir Sud Pacifique: Vanille Blackberry is a delightful mix of pleasure with fruity notes raised by florals. This fragrance opens with a refreshing Lemon and Bergamot, which leads you into the delightful taste of Blackberry and finishes with a subtle cashmere wood. This is the perfect staple for a sunny day. Top notes: Lemon, Bergamot; Heart notes: Rose, Jasmine, Blackberry, Pink berries; Base notes: Musk, Vanilla, Cashmere wood
Intense Cafe by Montale: A truly enticing fragrance. Brilliant Floral Notes reveal a surprising heart made of Delicate Rose and Sensual Coffee. This perfect duo leaves a very beautiful sillage of Vanilla, Amber and White Musk.Not a Blue Bottle 1.2 by Histoires de Parfums: A beam of Ivy, Lilac and Lily of the Valley illuminates a Sandalwood and White Musk milky way. This is the perfume of light. Top note: Ivy Leave, Pink Pepper; Heart note: Lilac, Lily of the Valley, Ylang-Ylang; Base note: Sandalwood, Vanilla, White Musk
Remarkable People by Etat Libre d'Orange: Remarkable people is utterly celebratory, fizzing like an assertive flute of champagne. Bright, tart grapefruit bubbles at the surface, melding with cardamom to be beautifully spicy without veering too piquant.
Customer Reviews
Excellent little gift set
This is such a wonderful, luxury/high-end gift set, would make any scent-loving lady delighted. I've already had a full-size Not A Perfume in my collection but the others were a big surprise and genuinely there's not a single one of these that I don't adore. Remarkable People was probably my favourite of this lot and contemplating purchasing the full size. Well done, Walmart, more like this please.mrsnelson
Amazing Scents!
What a great economical way to experience fine European perfumes. Each scent is lovely. None of them are strong or overwhelming. Each spray vial contains enough perfume to last a few days if used sensibly. This set would make a very nice gift for any perfume lover. I'm glad I found it!Marty
Bonjour Beautiful Perfume Set for Women
The Bonjour Beautiful Perfume Set for Women (Value of $75) is an amazing gift for the beauty enthusiast in your life. It is also an excellent way to get introduced to incredible fragrance brands like Montale, Comptoir and Juliette Has a Gun. It is a great value too! It would make a perfect stocking stuffer or gift. I got it for my girlfriend and she loved it so much, she got the full size of the Juliette Has a Gun. Overall, very impressed!llork
You may also be interested in